The Best Way to Get a Tan
Thursday, October 6, 2011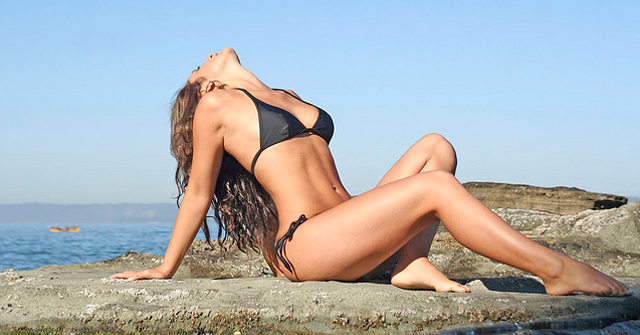 A tan gives people a glowing, healthy-looking appearance, but while they may look great temporarily, long term damage like premature aging and skin cancer are real risks. Spray tan, when done correctly, is a perfect alternative to a natural tan, without the same health risks. But, you need to know the best way to get a tan, the best time of the day to get one and other spray tan tips.
Here are some expert spray tan tips to help you get started. The best way to get a tan is to choose the right colour spray tan or tanning lotion for your skin. Then you have to prepare your skin at least one week in advance to achieve the flawless look. The best way to get a tan that looks fantastic is by exfoliating the dead skin layer. Wax off unwanted hair a day before you apply the tan to achieve the maximum benefit. Moisturise your skin to help with even absorption.
The most important spray tanning tips that you need to know is getting the timing right. If you are going to a salon before a special occasion, book the appointment at least 48 hours in advance. Spray tanning takes about a day to fully develop. Tweak your make-up to compliment your tan, for a natural look. If you are doing the tanning yourself, allow enough time for the application process. Whether applying tan at home or professionally, leaving adequate time in order for the colour to develop fully is crucial.
The best way to get a tan looking great is by deciding the right time of the day to get the tan. 11am to 1 pm is the best time of the day to apply a fake tan. You can have a shower before tanning and dry your body thoroughly so that the tan does not run. It will allow you enough time for the tan to dry completely before you put your clothes on and provide sufficient time for the colour to develop before your next shower. By getting your tan around this time, you also get the advantage of the natural sunlight and indoor heat generated by the sun.  As the tan completely dries off before you go to bed at night, there is no risk of getting stains on your bed linens.
Some people prefer to apply fake tanning products at the end of the working week. This gives you the weekend to enjoy the freshly developed tan. Once the fake tan is completely dry, you can use the night's sleep to pass the time while the colour develops. You will get the best result by skipping having a shower the day after you apply the fake tan.
By following the spray tanning tips provided here, you will achieve the maximum benefit of longer-lasting, flawless tan.