THE FAST + THE FIERCE
Wednesday, March 3, 2021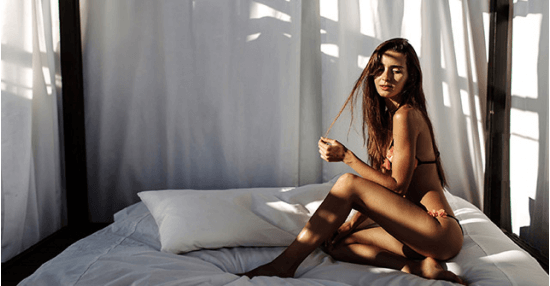 There's nothing worse than waking up the day after your spray tan, to a white hand print on the side of your cheek, a brown body print on your once fresh sheets, then rolling over to see your boyfriend looking like he has tried to apply a sunless tan himself! Luckily, all of these scenarios can be easily avoided by swapping your traditional 8-hour tan for a trusty Rapid solution!
Rapid solutions vary to the traditional 8hr tan, these handy express solutions give you the option to rinse your tan before you hit the hay and help you out of those last minute 'I need a tan' moments when you need a glow on the go!
OK, so how do they differ? The first rule of thumb is, the level of DHA present in a Rapid tan V's a traditional 8hr tan will always have a higher DHA percentage.
A tan developed from a spray-tan is an organic chemical reaction that occurs on the skin over 8-48hrs between DHA, (in some cases Erythrulose is also added) the proteins and the amino acids that are naturally present within the skin. The pH differences between various skins types mean that every skin type will develop differently as the tolerance to DHA varies. By increasing the level of Dihydroxyacetone (DHA) will intensify and increase the depth of colour produced, by decreasing the level it will do the opposite.
Rapid Tan solutions are often equipped with new technologies that allow formulations to have a better delivery system, enabling for enhanced penetration and delivery of active ingredients into the skin.
A "2hr Tan" can be misleading for some, and in most cases, people expect to achieve the deepest and darkest colour in this time frame, but that is not necessarily the case and can cause some disappointment not only in the result but also the brand.
Rapid solutions that are a step ahead of the game, have introduced new technologies when producing more durable cosmetic bronzers facilitating for a longer wear time on the skin. These advance bronzers allow products to deliver a visible difference between where the product has been applied even after showering.
It doesn't matter what solution or product you choose nothing can accelerate the reaction process between the skin and DHA. The Rapid Tan labels merely publicise the minimum amount of time the product can be left on the skin before rinsing. Although the product has been rinsed, it is still developing, and you just need to hold tight until the full development has occurred.
You can now alter colour depth by varying the times of how long the product is left on the skin then just selecting an 8hr solution based on its DHA percentage.
For example; if you were to leave a rapid solution with 8% DHA on the skin for 8hrs, the developed colour will be deep medium, but if left on the skin for the minimum of 2hrs results will vary between a glow-light. By increasing the percentage of DHA, a solution with 15%DHA when left on the skin for 1-2hrs a light-medium -medium can be attained, 3-4 hours will intensify results increasing the depth of colour developing into a medium-dark medium tan. Please keep in mind that all skins have a threshold when it comes to DHA, so it's important not stray too far from the products rinse times.
If the skin is oversaturated with DHA, it can cause the product to overreact on the skin making the developed colour either have a golden/orange hue or break down the surface layer of the skin triggered by DHA's drying effects, this is a common cause of tans becoming uneven a day or two post application.
Understanding the importance of educating your client about the Rapid Tan process is KEY for them achieving the ultimate tan. Your client doesn't always realise that the colour when they walk out your door is the result of cosmetic bronzers and no matter how long it is left on the skin the majority is going to wash off when they shower. Your client may also be unaware of the importance when it comes to following the instructions of how and when to shower.
To achieve optimal results from your Rapid Tan solutions you need to customise a rinse plan to suit your client's schedule while satisfying their want, for the desired colour they had in mind. It's a good idea to keep note and document what solution you sprayed your client with and how long you recommended to leave on the skin for. This will allow you to keep track of what they like or didn't like, and prevent any hostile situations arising if they didn't follow your customised directions.
You should be asking your clients and relaying to your clients before and after each Rapid Tan;
Q: What depth of colour did you have in mind?
Q: Are you able to shower in ___hrs? If no, you will have to look at altering your solution to either shorten or extend the time between application and rinsing.
T: After your rinse….Don't Panic! Your tan hasn't washed away, development can vary between a max of 12-24 hours!
T: Leaving the solution on longer than recommended can (in some cases) result in your tan overdeveloping, causing your skin to throw orange/golden hues or worse dry your skin creating a scaly and patchy effect.
T: When it is time for a RINSE be sure to avoid; Soaps, Shampoos or Washes until your tan has developed.
T: DON'T jump in and jump out of the shower as this will only cause the bronzers to streak on your skin.
T: Shower until the water begins to run clear. By rubbing your hands over your body will ensure that the bronzers will be rinsed off evenly.
T: Avoid the gym as sweating can hinder the development of the tan.
T: Once your tan has developed, just like the traditional 8hr tan; After Care is just as important when extending the life of your tan and ensuring an even fade.
Moroccan Tan™ Moroccan Accelerated 30 Minute 16% DHA 1 Litre
Who is it ideal for? Is suitable for all skin types & is excellent for a salon looking for a big point of difference.Key Features: Wash n Wear 30 minute tan. For darker results leave on the skin for up to 4 hours, 48 Hour Hydration Technology, Probiotic Defence, Ultra Bronzers, and Loaded with organic ingredients, Sulphate and Paraben free.
Who is it ideal for? Is suitable for all skin types & people wanting to achieve the quickest tan available.Key Features: 20 Minute wash and wear, 14% DHA, achieve a Med- Dark Tan, infused with Naked Tan's signature scent, suitable for all skin tones.
Who is it ideal for? Suited to clients needing the appearance of a tan in a hurry, reduces spray tan solution development time from 8 hours to under 5 hoursKey Features: No orange tones, long lasting and fades evenly, genuine cocoa brown colour, No noticeable fragrance, provides great hydration for the skin.
Who is it Ideal for? Those looking to develop a deep, dark bronze tan, Tanners wanting dramatic results, those with naturally darker skin tones.Key Features: 2 Hour Rapid Tan, Natural bronze colour, Moisturising & nourishing; great for the skin, long lasting, and fades naturally without patchiness.