Everything You Need to Know About Spray Tan Kits
Wednesday, April 7, 2021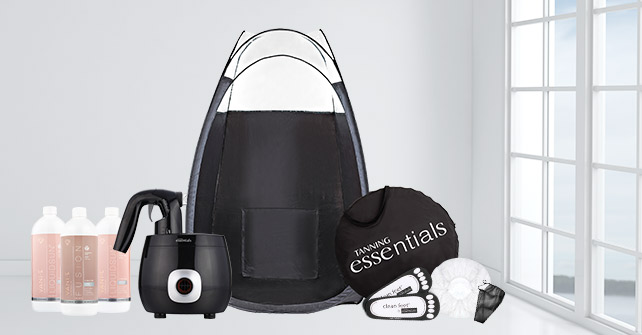 Whether you're a professional tanner with a salon or you run your own tanning business from home, it's likely at some stage you would've stumbled across spray tan kits in your search for tanning equipment or sunless tan solution. Before you go ahead and make that big purchase here's a few things to think of before introducing spray tan kits into your home or business.
First things first! You need to have a good understanding of your business keeping in mind the quantity and quality of tans you want to provide your clients with, whilst also not breaking the bank. Whether you're just starting out fresh in the industry or an experienced, avid tanning professional, there's an extensive range of spray tanning kits available at arm's reach to cater to all your business's needs, whatever the size!
Professional spray tanning kits come in many forms, sizes and brands so look into ones and find an option that fits best with your needs, tailoring a kit to complement your businesses intended use. Consider the amount of spray tans your planning on doing each day, would the equipment you're looking at cope with the high demand?, or how much solution is used and wasted from over-spray after one spray-tan? These questions will help give you a guide line of your outgoing cost, whilst providing a bench mark for what you want to be charging per spray-tan, eliminating the risk of your business running at a loss.
Using spray tanning kits can be more complex than most people think. So when it comes time to fill the applicator up with solution it's important to make sure you know what you're doing!, keeping the user manual close by it'll show you how to operate the equipment correctly, ensuring your client won't be left disappointed.
Spray tanning kits just like most things in life need some sort of maintenance in order to keep functioning correctly. Tanning equipment requires frequent cleaning, preventing your applicators from becoming blocked or worse breaking, so being vigilant with your equipment upkeep ensures it lasts for as long as possible. User manuals will provide you with instructions for; daily / monthly cleaning and maintenance procedures to keep things running smoothly. If there does come a time where your machine dysfunctions, refer to your user manual which should provide you with a trouble-shooting guide to fix your issue efficiently, most occasions it will be something pretty simple. If your spray tan kit still doesn't seem to be running how it used to, look into having it professionally repaired.
Some spray tan kits will allow you to start tanning immediately, partnering a tanning system with essentials like; extractions, tents, disposables and sunless tan solution. When choosing a brand of solution you need to look at your demographic and keep in mind what type of tan they want to achieve by simply investigating what shades and brands are available. One thing is certain though, the quality of tan is only as good as its ingredients, so by selecting a brand that understands the importance of skincare will ensure you're delivering the ultimate tan every time! Finding the best solution for your mobile, home or salon is easy once you know what you are looking for. Opt for a brand that has developed products with an array of; skin care technologies, colour bases and wash and wear times, this will allow you the opportunity to provide your clients a customised spray-tan that will complement their skin tone, lifestyle and events perfectly.
Adore Tanning will deliver you with; the latest tips & tricks, newest tanning innovations & how too's?. Adore Tanning is home to a variety of much loved brands and spray tan kits. So when it comes time to kick start your tanning career, grow an existing business or just feel like an upgrade, let us at Adore Tanning equip and educate you with the perfect brands of solution & shades plus all the tanning essentials to suit the needs of your business. Confused? Speak to one of our beauty professionals today.
Want to know more? Call us today to speak to one of our professionals about spray tan kits.