Summer Hair Tips
Wednesday, February 15, 2012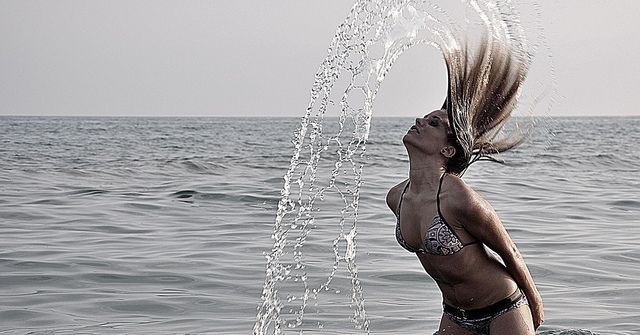 Luscious and healthy locks are a great way to achieve a radiant summer look.  But with the blazing summer sun, humidity and salt water, your hair can get easily damaged.  So how can you avoid frizzy, ragged ends during summer? Here are our top summer hair tips to achieving a full and shiny head of hair. With these hair care tips, you'll have all the girls staring with envy!
1. Avoid Overexposure
The summer sun results in dried out hair and scalp.  When you're outside for extended periods, wear a large brimmed hat to protect your hair from the harsh UV rays.  This is even more important if you have dye in your hair as the sun won't only dry it out, but will also change its colour.  Exposure to salt water and chlorine is also damaging, which means it's best to protect your hair before swimming.  There are some great summer hair products on the market, so visit the pharmacy and purchase a UV hair protecting spray before you visit the beach or pool.  This is one of the best hair care tips around!
2. Get rid of any nasty substances
After you've been swimming it's important to remove any trace of chlorine from your hair as quickly as possible. Shampooing the hair will only remove the first layer of dirt and scent, so make sure you always shampoo twice.  Using a high quality shampoo that is intended for repairing sun damaged hair is also ideal.
3. Replace oils and nutrients
Never forget to condition your hair! After you have been in the sun, salt water or chlorine it is extremely important to replace the oils in your hair.  Choose a highly moisturising conditioner for the summer time and use it daily.  This is one of the most important hair care tips – after all, nobody likes split ends!
4. Stay Natural
Believe it or not, your hair will look far healthier if you leave it natural. Of course this is one of the optional summer hair tips, but if possible, you should avoid dying your hair a lighter colour as the bleach will only dry the hair out more.  Your hair is likely to become a lighter colour during the summer months anyhow since the sun and salt water are natural bleaching agents. If you are in need of a change, try dying your hair darker – brunette rinses replace elasticity and moisture in your hair!
5. Avoid harmful hair tools
This is the last of our summer hair tips, but it's an important one!  Whenever possible, avoid using heated hair tools such as straighteners, hair dryers and curling wands. Using these tools regularly will lead to split ends and dull, dry hair.  Instead, keep your locks natural during the week and save the heating tools for the extra special weekend events.
So there you have our top five hair care tips!  Compliment your glowing summer tan with incredibly healthy locks this summer.  After a few weeks of following these summer hair tips you'll never look back!