The Risks of a Sun Tan & Alternative Solutions
Wednesday, May 1, 2013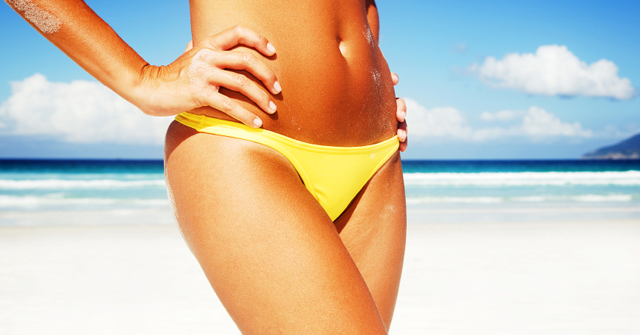 Sun tanning is the easiest way to create an appealing bronzed glow, but the truth is: it has numerous risks associated with it. Yet, many Australians are addicted to getting a sun tan despite the dangers they are inflicting upon their skin.
Ultraviolet rays from the sun damages the skin and is the main culprit behind the many skin problems arising in sun tan lovers. Melanoma is the most common form of skin cancer caused by UV rays and it is one of the most deadly.
UV rays are also emitted from sun tanning beds, which many people use as an alternative during the winter period. Absorbing 20 minutes of these harmful rays is equal to spending a whole day under the sun! In Victoria, South Australia, and Western Australia, the legislation has been tightened on the restriction of usage of these dangerous tanning beds so as to reduce the number of victims falling ill with melanoma.
This new law strictly bans all fair-skinned people under the age of 18 from using solariums. The law was created after a Queensland medical study showed that regular users of sun tanning beds under the ages of 35 had a 98% greater risk of developing melanoma.
Apart from melanoma, other side effects of UV exposure include sunburn, premature aging, actinic (or solar keratoses), eye damage (photokeratitis), and immune system suppression. The best way to lower your risk of skin cancer while still enjoying sun tanning is avoiding exposure to the harmful UV rays and opting for sunless tanning.
Fake tanning or sunless tanning is the application of lotions, gels, creams or sprays on the skin so as to create the appearance of a sun tan. It is the safest alternative to sun bathing as you are not exposed to the harmful effects of the sun. In sunless tanning products, the active ingredient dihydroxyacetone (DHA) is added which reacts with the dead skin cells on the outermost layer of the skin and darkens them to produce an appearance of a sun tan.
The fake tan will not wash off but it will fade as the skin sloughs off. Sunless tanning is done professionally at salons and spas, but it can be tried at home with tanning products available both online and in-store.
If you love your bronzed glow, the best alternative for your health is sunless tanning, with lotions and sprays remaining as the most effective means, next to other options such as gels and pills.
These gels and pills contain tanning accelerators (tyrosine) which stimulates the formation of melanin and hence, speeds up the tanning process. Choose any of these alternative sunless tanning options to get tanned the safe way!