Prolong Your Tan
Friday, May 21, 2010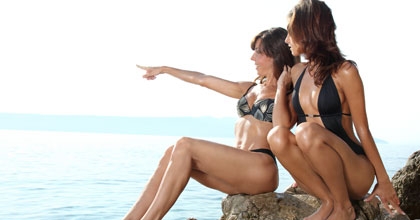 So you had a spray tan, or used a self-tanning product, and you've got a lovely bronzed body. Is there a way to keep that tan from fading fast? Yes, there is!
Moisturising helps, but what works even better is using a special Tan Extender.
Why do fake tans fade?
Sunless tanning products, such as spray tans and self-tanning lotions, colour the outer layer of your skin only. The main ingredient of tanning products is DHA, or dihydroxyacetone – this is what turns your skin brown after applying the fake tan.
Because our skin cells renew themselves constantly, your tan will gradually disappear as your body sheds dead skin cells. If you don't do anything to your skin, you will see your fake tan starting to fade slowly after about 3 days, and it may be gone after about a week or so.
How to keep your tan longer
Fake tans fade faster on dry skin.
If you don't want your tan to disappear before your eyes together with your shedding skin cells, you should avoid:
• Long swimming sessions in salt or chlorinated water • Exposure to sand and very windy conditions • Overexposure to artificial heating or cooling • Too much exfoliating, waxing or shaving
The importance of moisturising
Avoid dry skin, and a fast-fading tan, by keeping your skin moisturised. But don't use moisturiser until after your first shower, at least 6 hours after applying your fake tan.
If you're really serious about wanting to extend and enhance your sunless tan, use a Tan Extender.
What is a Tan Extender?
A Tan Extender is a specially designed product that you use to make your sunless tan stay darker for longer. It is a special type of moisturiser with a small amount of DHA in it.
How do you use a Tan Extender?
The first time you use a Tan Extender is the day after you got your fake tan. By applying it daily – the best time is after you bathe or shower – you moisturise your skin and enhance and prolong your sunless tan.
There are different types of Tan Extenders that each work slightly differently. Some may contain a higher percentage of self-tanner or bronzer than others. With light levels of DHA, they will keep adding colour gradually to maintain and enhance your fake tan.
Aloe Vera and other moisturising ingredients will help soothe and condition your skin. Each tan extending product contains different ingredients with unique benefits, such as skin firming or anti-aging. But what they all have in common is that they help you keep your fake tan looking fabulous for longer!
• Visit our shop to find the perfect tan extender.
How long does your fake tan usually last? And do you use a tan extending product to enhance or prolong your tan?
Leave a comment below to share your experiences.