Naked Tan Solution Review
Wednesday, May 2, 2012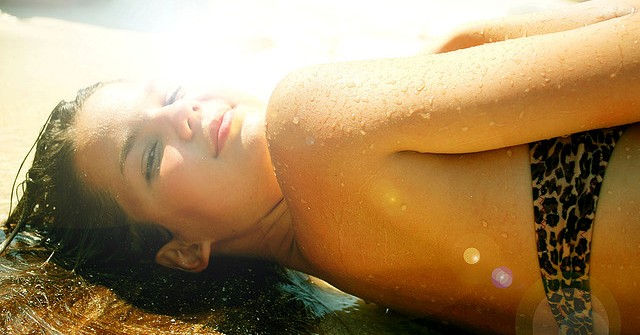 Wouldn't it be wonderful to have a gorgeous looking tan all year round? Well it's possible! With spray tanning you can have a stunning summer glow in the cold winter months! You may be wondering whether a spray tan will look fake or orange and the answer is no. You can purchase high quality tanning solutions extremely affordably these days, and some of our favourites are the Naked Tan Spray Tan Solutions. With these incredible tanning products, you'll look like you've lapped up the natural sun and achieved a glorious summer tan. No one will ever know that it's fake!
Naked Tan is an Australian brand established by Lea Taylor in 2005. It was created for the modern women and is intended to be an on-the-go tanning companion. In just two hours you can wash off the solutions and have a fully developed tan, making them quick, easy and convenient.  Here are three premium solutions that we highly recommend!
Natural Solution (8% DHA)
For the light tanners and the fair-skinned, this is the spray tan solution of choice. Containing 8% DHA, this product will give you a healthy and subtle looking glow. Highly popular among brides, this spray tan solution has a stunning golden base giving the ultimate goddess appearance.
It is also vial to note that this solution has the following features:
Tanned Solution (10%)
For those who desire a more noticeable tan, the Tanned Solution is a fantastic choice. Similar to the Natural solution, this product is free of parabens, alcohol and fake tan odour. It also contains all the healthy ingredients such as Aloe Vera, Coconut and Vanilla Bean. Contrary to Natural, though, this product has 10% DHA, giving you a gorgeous, medium-dark tan, while still appearing gloriously natural. The golden based solution is suitable for a huge range of complexions, even those with fair skin.
Chocolate Solution (12%)
Like the first two products, the Exotic spray tan solution is packed with features that guarantee nothing but a perfect, sunless tanning experience. The only difference is that it has 12% DHA, giving a stunning, deep, hot chocolate tan. If you're after a super dark tan, straight from summer sun, then this is the solution for you. This Naked Tan product is suitable for all skin types and ideal for those with Mediterranean or olive complexions.
Often people find it difficult to find the perfect spray tan solution for their skin type. With the Naked Tan products, there's no need to worry. These solutions are perfect for all skin types, with a golden base that suits almost any complexion. The only choice you need to make now, is how dark you want to go!