How to Apply Fake Tan
Wednesday, December 7, 2011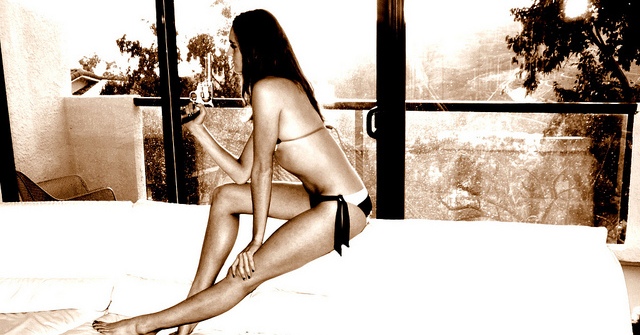 Are you a first time self-tanner? No worries, we have got you covered! We have compiled a handy little guide on how to apply fake tan that will leave you looking sun kissed and gorgeous.
Before you do anything, you need to decide how you want to obtain your tan. Do you want to get spray tanned or use tanning lotions? If it is your first time spray tanning, go to a salon that is recommend by your friends – do not try to do it yourself. The ability to apply a perfect spray tan comes with time and lots of practice so leave it to the pros if it's your first time.
As for tanning lotions make sure you pick a colour and shade suitable for your natural skin colour. Always do a patch test of the tanning lotion by applying it to a small, hidden area of your body. See how it looks after a day. Experiment with the time you keep it on your skin. Remember the longer you leave it on the darker it will be. If you are happy with the colour and have found your optimum length of time to keep it on for, then you're ready to get started.
These next steps apply to both processes – spray tanning and applying a tanning lotion. Two days before you tan, shave, exfoliate, and moisturise. You will need to remove any unwanted hair because hair will tan darker than skin. You should wait two days to one day before self tanning because it gives your skin time to heal. Next, you need to exfoliate. Using a scrub, lather all over your body and face (if that is to be tanned as well) to help clean away dead skin cells. Finally, moisturise. Use lotions to help hydrate your skin which will better prepare it for tanning.
If you decide on spray tanning, all you need to do now is show up to your appointment! Make sure you dress in dark, comfortable clothes that you won't mind getting stained. A professional tanner will explain the process and will give you precise directions to follow.
If you decide to use a tanning lotion, here's how to apply fake tan:
Most of the time, it is advised you wait at least 8 hours before showering or bathing. However, if you're doing it yourself and have worked out the perfect time with your patch test then go with that. Your tan should last between five and ten days, and then it's time to do it all again.
There you have it first timers – a guide on how to apply fake tan.