How Long Do Spray Tans Last?
Monday, June 18, 2012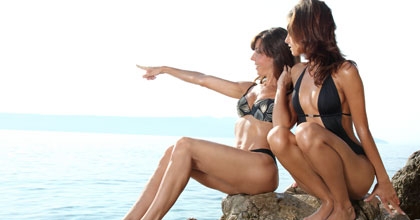 Spray tanning is the best way to get a bronzed look without exposing your skin to the sun's damaging UV rays.  With multiple benefits such as being safe for your skin, being easy to apply and developing a full summer tan in just a few hours, there isn't much to deter people from getting a spray tan.  There is however one question that first time tanners tend to ask, and that's "how long do spray tans last?"  If this is something that you've been wondering, then we can assure you that although your spray tan won't last forever, it should last for up to 10 days as long as you show your skin the love and care it needs.
Lasting anywhere between 5 and 12 days, spray tans will fade at various rates depending on the person and how they treat their skin. Our bodies are constantly losing dead skin cells and since tanning solutions affect the skin's outer layer only, this means that our spray tans eventually fade as our outer skin cells are lost.  So what can you do to make a spray tan last longer?  And how long do spray tans last in reality? Below are a few tips to ensure your spray tan lasts as well as possible, which should easily be 8 to 10 days.
So if someone asks you "how long do spray tans last?" then you now know the answer.  With the tips above, they can hope to maintain a glowing summer tan for up to 10 or 12 days.  That's amazing!