Product Review – One Hour Spray Tan Solutions
Wednesday, July 2, 2014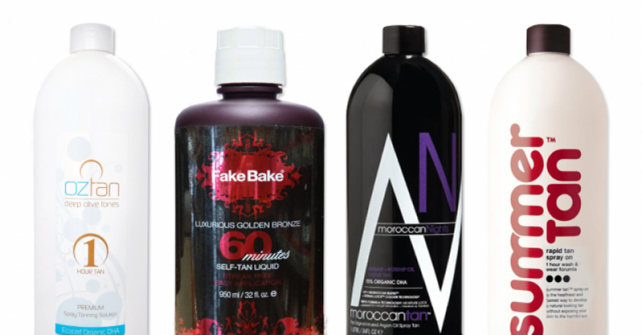 The world is forever changing and with it is the need for rapid tans. Whilst traditional 8 hour tans are still favourites for some, others are opting for rapid tans. So why choose a rapid tan over a traditional? While rapid and traditional tans both take 18-24 hours to fully develop, the difference is that with a rapid tan the client has the convenience of being able to shower 1-2 hours after application (times may vary depending on the tan used). This means you can say goodbye to dirty bed sheets and can go about your day not having to worry about issues such as perspiration or smelling like a walking spray tan. When having that initial shower, the instant cosmetic bronzers are washed off and the active ingredient DHA will then take over and begin developing. Adore Tanning review the One Hour Rapid Tans we stock online.
This One Hour Wonder provides a flawless finish and is enriched with Kakadu Plum and Vitamin E that will leave your skin glowing with absolutely no fake tan odour or orange tones. The rapid ECOCERT organic DHA will begin to develop into superior olive tones in just one hour. The anti-oxidant rich formula is lightly scented with pure essential oils of Frangipani, Geranium and Vanilla. This spray tan is renowned for long lasting colour and even fade. Suitable for all skin types, OzTan spray tan solutions dry quickly, are not sticky or oily and produce no typical 'fake tan smell'.
Moroccan Nights achieves the deepest and darkest exotic tan. This formula is Infused with luxurious Argan and Rosehip Oils and enriched with Vitamins to create radiant, silky hydrated skin. This One Hour Wonder is a non-oily non-sticky violet based tan that is jam packed with goodies such as a blend of Caffeine, Vitamins & O2 to achieve firmer skin and reduce the appearance of fine lines. Other nourishing ingredients include Vitamin E & Aloe Vera, which provides intense hydration for the skin and allows the client to leave the spray tan on for up to 5 hours to achieve darker results – with minimal chance of over development.
Fake Bake 60 Minute Liquid is a revolutionary, express, self-tan liquid that develops into a beautiful, natural looking tan in 60 minutes. The formula is a fast drying, non-sticky light weight formula which contains Erythulose; an ingredient that guarantees longer lasting results (up to 50% longer). This One Hour Wonder contains added benefits such as anti-ageing and anti-cellulite properties and designed to not clog the pores.
Beauty company Mancine Cosmetics brings you their Summer Tan tanning range. Their quick drying Rapid tan achieves a natural, sunkissed glow. This One Hour Wonder contains no harsh or offensive chemical smell and provides nourishing ingredient such as Sea Extracts, Calendula Extract and Vitamin C, which help to replenish and hydrate the skin.