Fake Tan & Fashion
Wednesday, November 9, 2011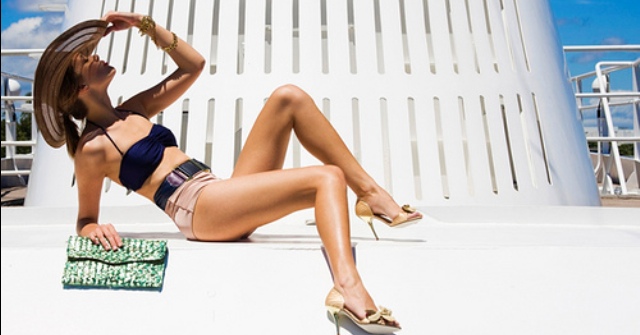 A fake tan can help to give your skin a glowing and healthy look. However once you have applied your tan, there are a few basic rules to follow when choosing your outfits and fashion accessories.
Firstly, under no circumstances should your tan lines ever be exposed. Your outfit should always cover them! Secondly, in order to look your best choose colours and shades that further enhance your tan. The colour you choose for your outfit can give you anything from a dramatic look to a subtle, sweet look. With this in mind, always remember to choose your colour schemes according to the occasion. Some colours that have a striking effect when worn with bronzed skin include turquoise, green and purple. For a more subtle yet still colourful look, yellow can match a tan perfectly.  And for classic style, you can't go wrong with tanned skin and a black dress.
Once you're dressed, jazz up your look with some fashion accessories. Bold accessories can be a statement in themselves, and when paired with a great tan and well-chosen outfit, they are the final touch to looking your best.  Similarly to your clothes, jewellery should be selected to compliment your tan. Choose your fashion accessories in colours such as aquamarines, blue, green and turquoise for an exotic appearance. Otherwise for a more neutral look, gold fashion accessories always look stunning against a tan.
Choosing the right colours for your makeup is critically important. Don't be afraid to mix colours, however do avoid large amounts of one colour as it can be overpowering. Mix shades such as gold and brown to create a glowing and healthy look.  Your fake tan will already have given you a glow and you don't want to spoil that with too much heavy makeup.  For this reason, try using tinted moisturiser instead of foundation, as it will create an even complexion more subtly.
Almost any coloured eye shadow and eye liner can be worn when you have tanned skin, so you can experiment with colours depending on the occasion. From subtle bronze eye shadows to more dramatic colours such as blue or green, you can use eye make up to compliment both your outfit and your tan. One of the last yet important touches to your makeup is a well-coloured bronzer.  It's extremely important that your bronzer is the right colour for your skin, as we all know that poorly applied bronzer can look terrible. On the other hand, don't be tempted to skip on the bronzer, as your face could end up looking too pale against your fake tan.  Finally, with a gentle coat of brown or black mascara, you're ready to go.
A fake tan is a fantastic way to create a healthy glow without damaging your skin in the sun. When it's carefully applied and paired with the right colours and shades, a good fake tan is the key to looking hot. And don't forget your fashion accessories, as they can be the icing on the cake. With these tips in mind, nothing is stopping you from looking your best this summer!