Fake Bake Review
Wednesday, July 4, 2012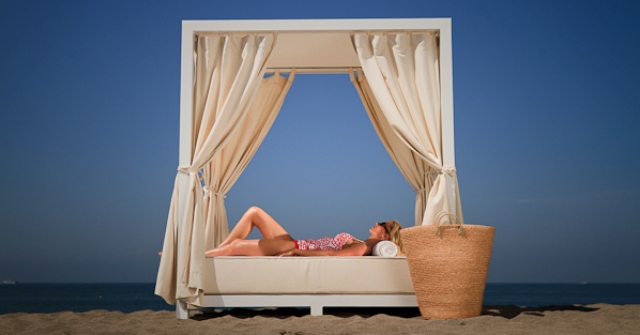 Operating since 1995, Fake Bake has come a long way in accomplishing itself as an esteemed supplier in the tanning industry. Being the first company to combine the naturally derived tanning agents Erythulose and Dihydroxyacetone (DHA) in its self-tanning products, they introduced tans that lasted up to 50% longer than previous self-tanners. It's no wonder why this tan has been used by celebrities such as Jennifer Aniston, Jessica Alba, Emma Watson, Britney Spears and Miley Cyrus! So if you're looking for a high quality sunless tan, you can rest assured knowing that these products were voted as the No. 1 self-tanners in New York Times. Below is a review of a couple of our favourite of their self-tanning products.
Flawless Self-Tan Liquid & Professional Mitt
You can't go wrong with this superb and simple-to-use Flawless Self-Tan Liquid. Giving a gorgeous, golden colour to any skin type or tone, this solution has an irresistible black coconut fragrance and is void of any obvious fake tan odour. Simply spray a fine mist of this solution over your freshly exfoliated skin and then gradually massage it in using the included professional application mitt. The best part is, this product is formulated with a dual function cosmetic bronzer which gives an instant golden glow while also developing into a longer lasting tan. You'll just love this fast drying and fast absorbing tanning product, as you can happily apply it without worrying about any tan transferring to your clothing. Formulated with the signature triple tanning agent used by Fake Bake, this tanning liquid includes DHA, DMI and Erythulose, giving an intense and long-lasting tan!
Aerosol Airbrush Tan
This has got to be the easiest way possible to achieve a tan! This Fake Bake product is specially designed so that it "shows where it goes", using cosmetic colour to assist you in applying an even and all-over tan. Not only is this solution fast drying, but it also saves you from any blocked pores unlike many other tanning products. In just two hours you can have a glorious, natural-looking tan! Just to top it off, the 360 degree nozzle helps you to reach difficult areas from any angle. We promise you'll just adore this self-tanning product!
So there you have a review of two of our favourite Fake Bake tanning products. For anyone who likes to experience a glorious, long-lasting tan, these are the ideal products! Formulated with three active ingredients, there's no better way to maintain a sunless tan. So why not give these products a try? We know you'll love them!