AVIVA Labs Spray Tan Solutions
Wednesday, February 29, 2012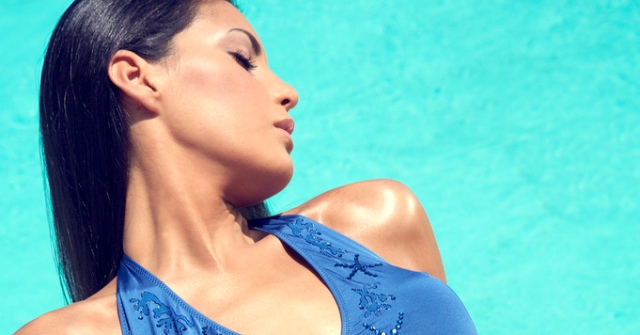 When it comes to spray tan solutions, one of the most popular brands is AVIVA Labs. As well as offering a stunning summer glow, the AVIVA solutions are oil-free, alcohol-free, fragrance-free and use the highest quality ECOCERT Certified DHA on the market.  There's a reason why so many people love these spray tan solutions, and that's because AVIVA is committed to the long-term health of their client's skin. Containing only natural and safe ingredients, each AVIVA spray tan solution is hypoallergenic, containing nourishing vitamins to help rejuvenate skin cells. So if you're considering purchasing an AVIVA spray tan solution, you can rest assured knowing that it will be free of any harmful ingredients.
The AVIVA Labs Original solutions are ideal for salon use, being formulated to minimise overspray and drying time and to give a consistently smooth and even tan.  The formulas are moisturising and nourishing, suitable for even the most sensitive skin types. Designed to give a stunning summer tan to clients with cool to neutral skin tones, these solutions are ideal for people with a pinkish skin undertone.  Below is our review of the various AVIVA Original solutions.
8% Original With fair skin it can be difficult to find the right coloured spray tan. While you may be looking to boost your summer tan, you may not want it to appear obvious and fake.  If you're having trouble finding a spray tan solution that offers you a subtle and natural glow, then the AVIVA 8% Original solution will be perfect for you. It's formulated for those with skin types 1 or 2, with fair hair and light coloured eyes.
10% Original With an extra 2% DHA, the AVIVA Labs 10% Original solution is a fantastic choice for anyone with skin types 2, 3 or 4. People with these skin types generally have sandy brown hair and olive skin tones. With an extra kick from the added bronzers, this spray tan solution give a deep, warm tan to a variety of skin tones.
12% Original If you love to have a luscious and dark tan, then you must try the 12% AVIVA Original solution.  Intended for dark-haired and dark eyed customers, this solution gives a strong, natural coloured tan for skin types 4 and 5.
14% Original You truly can turn chocolate brown with the AVIVA 14% Original spray tan solution. Formulated for naturally dark-skinned customers, this product is suited to skin types 5 and 6. Rest assured knowing that a spray tan with this solution will give you the ultimate summer tan!
Regardless of your skin tone, AVIVA Original solutions can give you the perfect summer tan, while maintaining your skins long-term health. So when you're next tanning, be sure to avoid chemicals and harmful ingredients with AVIVA's spray tan solutions!