Aviva Labs City Express Collection
Thursday, November 14, 2013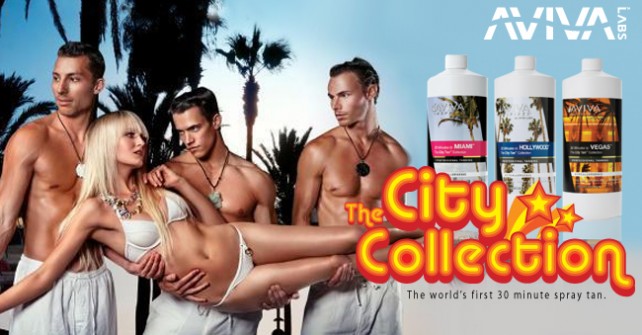 Aviva Labs have fast become a reputable spray tan brand widely used across salons in Australia since being established in 2006. The brand strives to not only change the face of sunless tanning, they also endorse that 'the beauty of a sun-kissed glow should never be achieved at the sacrifice of healthy skin' and what better way to promote this, than with their City Express Collection. Each 'City' in this range provides a vastly different tone depending on what look you are trying to achieve. Key features of the range include a non-oily, alcohol-free, hypoallergenic formula included with ECOCERT certified DHA.
Picture the Caribbean warmth of Miami; a city that conveys the balmy Spanish skin tones and rich Latino tans straight out of South beach. This formula comprises of a rich brown chocolate based bronzer that is a perfect choice for those with neutral to warmer skin types that are wanting to achieve a deep, sumptuous, Latino inspired colour.
Let's set the scene and imagine the glitz and glam of Hollywood; picture designer handbags, the Hollywood Walk of Fame, the flashing cameras of paparazzi, and last but not least celebrities sporting their famous Hollywood golden glow. This tan is suitable for cool, neutral and warm skin tones, producing an enriched golden colour that will have you looking like a Hollywood star.
'What happens in Vegas, stays in Vegas' – Aviva have provided us with an option that this is now no longer the case! You can now achieve a Vegas-inspired tan without having to actually go there in the first place. Imagine flashing city lights, showgirls, glitter, feathers and deep desert inspired tan with a beautiful red undertone.
A hui hou (Until we meet again) – Set you mind back to your Hawaiian escape, beach, cocktails, sunshine, shopping and the perfect bronze tan. Say Aloha to the newest destination in tanning; Honolulu!
All city collections require 30 minutes processing time for light, 60 minutes for medium and 90 minutes for a dark tan.