Airbrush Tanning
Friday, November 25, 2011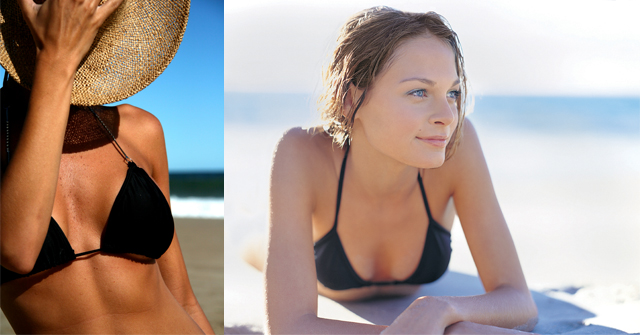 Are you sick of pale, pasty white skin? Summer is just around the corner and with it comes bikini season, so if you haven't got your tanning sorted you need to act fast. If you are looking for a way to get a perfect golden glow, you might want to look into airbrush tanning. This tanning technique is becoming increasingly popular as it gives you one of the most even, natural looking tans around. Many people don't know much about this technique, so here you will find out all you need to know about it.
What is Airbrush Tanning?
In general, airbrushing is a painting technique used in arts, model making, advertising and cosmetics. An airbrush is a spray pistol, which mainly works through the process of nebulisation (i.e. converting liquid into a mist or fine spray). The first pistol was patented in 1876 by Francis Edgar Stanley. When a tanning airbrush is used in spray tanning, it is attached to a tanning system that contains a spray tan solution.  The tanning airbrush then converts the tanning solution into a fine mist which can be applied directly to the body. This technique allows you to obtain an extremely smooth colour gradient and even application. The airbrush has now been used for over 30 years in the cosmetic industry and is popular for its fine and precise application.
Where to go?
Most professional tanning and beauty salons offer airbrush tanning. By visiting a salon you are ensured a professional looking tan and an even application. As salon therapists use a tanning airbrush day in and day out, you can be confident that they will also be able to match your skin colour to the right tanning solution.
What to Expect?
By getting your tan done at a professional salon, staining your hands and feet is no longer a problem as you do not need to handle any self-tanning products – it is all applied directly onto your skin by a professional. This process is quick, easy and effortless. You can expect to have the application over in as little as ten minutes. You should not shower for at least eight hours after getting your airbrush tan.
Your tan will last around five to ten days after application. Exfoliating before and using a tanning extender afterwards will help extend the life of your tan.
What are the benefits? Aside from getting a perfectly even tan, airbrush tanning is also the healthy tanning option. Unlike sun tanning or using a tanning bed, airbrush tanning does not damage your skin cells. Therefore, there is no danger of skin cancer.